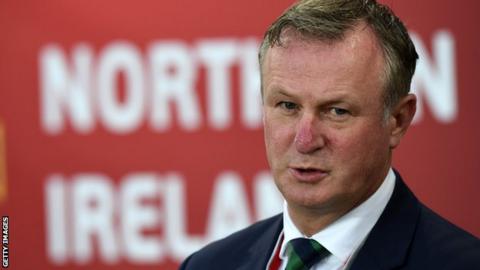 Northern Ireland have dropped below Denmark in the Fifa rankings, meaning they will not be seeded for the 2018 World Cup play-offs.
The Danes have moved up seven places in the rankings and will be seeded along with Switzerland, Italy and Croatia.
They will each be drawn against unseeded Northern Ireland, who dropped three places, Republic of Ireland, Sweden and Greece.
The draw will take place on Tuesday, 17 October at 13:00 BST in Zurich.
The games will take place on a home and away basis, with the first legs taking place between 9 and 11 November and the second legs between 12 and 14 November.
The first team drawn for each of the ties will be at home for the first leg.
Northern Ireland were 20th in Fifa's previous rankings list but they lost to Germany and Norway in their final two group games on the way to finishing as Group C runners-up.
Meanwhile, Denmark beat Montenegro and drew with Romania in their last two World Cup qualifiers.
England have moved up three places to 12th in the rankings, Wales have dropped a place to 14th and Scotland have gone up 14 places to 29th.
Germany remain in the number one spot, with Brazil second and Portugal third.