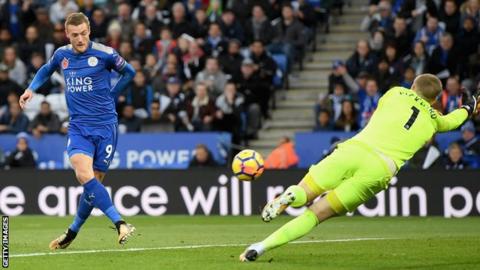 It is never too complicated with Jamie Vardy.
The striker laughs as he tells me he still feels like he is 21, but the fact is he is into his 30s and is one of the senior statesmen in an England squad that has been shorn by injuries of much of its experience.
If the new faces in the squad are thinking of turning to him for advice, though, Vardy says he will direct them to Joe Hart and Gary Cahill.
By the time Alan Shearer was the age Vardy is now, he had already played his last England match, retiring from internationals in 2000 to extend his club career.
But Shearer had been England captain, won the Golden Boot as top scorer at Euro 96 and played 63 times for his country.
Vardy was 28 before his debut, having started out in non-league football, has Euro 2016 as his only major international tournament experience and a total of 17 caps.
Vardy still having a party – Stats
Jamie Vardy has been involved in 13 goals in his last 15 Premier League games at the King Power Stadium (11 goals, 2 assists).
Vardy has scored the first Premier League goal under each of the last three Leicester managers (Claudio Ranieri, Craig Shakespeare and Claude Puel).
Riyad Mahrez has assisted nine of Jamie Vardy's Premier League goals – more than any other player.
So it is little wonder that he says, going into friendlies against Germany and Brazil, the incentive of a place in the squad for next year's World Cup is "massive".
And as for whether he would ever consider 'doing a Shearer' and retiring from international duty he tells me: "I don't think past tomorrow, to be honest.
"If I start thinking too far ahead, I'll forget something."
Watching him for BBC Radio 5 live at Stoke last weekend was a reminder of the relentless energy that he puts into his game.
"It's probably a good job I still feel 21. If I felt my age, I'd be a bit more tired with my legs," says Vardy, who will be 31 in January.
His recovery strategy is to get as much relaxation at home as possible; "which doesn't always work, with the kids running riot," and to try to fit in a swimming pool session and use Leicester City's cryo-chamber which speeds up the process.
Vardy has scored six goals for Leicester this season but has played only 20 minutes for England, as a substitute in Malta in September. He missed last month's final two World Cup qualifiers through injury.
It was against Germany that Vardy scored his first goal for England – in the thrilling 3-2 comeback win in Berlin – which raised hopes of what might be possible for Roy Hodgson's team at Euro 2016.
He remembers: "Nathaniel Clyne crossed it just behind me and I've just flicked a leg out hoping to get a connection and I think I got the sweetest connection I could ever have wished for, and it flew in luckily."
It came in the March of last year when so much of whatever Vardy touched turned to gold as his 24 goals for Leicester that season help to propel them to the Premier League title.
Vardy considers the England performance that night to be among the best he's been involved in.
In fact, he has scored in his last two Wembley appearances for England and says the forthcoming matches against Germany again on Friday and Brazil next Tuesday are about "trying to get decent results and the consistency going and take that consistency to Russia".
Whether that will prove complicated remains to be seen.