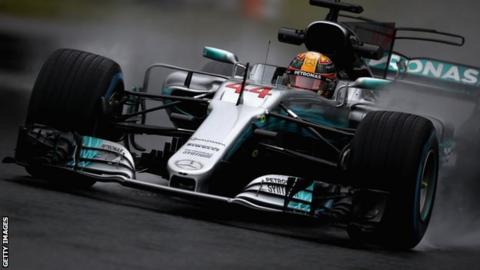 Lewis Hamilton was fastest in a rain-hit second practice session at the Japanese Grand Prix in which only five drivers set a lap time.
Hamilton was 0.799 seconds quicker than Force India's Esteban Ocon.
The Frenchman's team-mate Sergio Perez was third fastest ahead of the Williams drivers Felipe Massa and Lance Stroll.
Ferrari's Sebastian Vettel was fastest in the dry morning session, ahead of Hamilton and Red Bull's Daniel Ricciardo.
Teams were reluctant to run because each driver is limited to four sets of wet-weather tyres for the weekend, although qualifying and race day are expected to be dry.
The session was cut in half because the track was declared too wet to run on for the first 45 minutes of its scheduled time, but even when the green light was shown only 14 of the 20 drivers ventured out at all, and the majority returned to the pits after one lap.
Stroll was the only driver to fall prey to the conditions, sliding off the track after hitting a patch of water at Turn One and narrowly avoiding a crash.
Red Bull did not even send their drivers out, preferring to save tyres in case the forecast is wrong at a place where the weather is typically unpredictable.