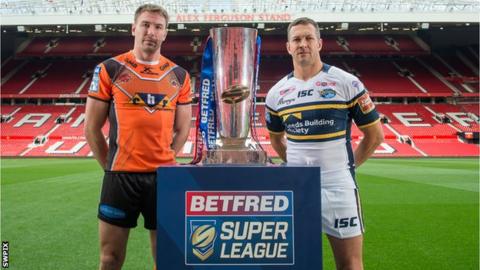 In 2013, Castleford were on the precipice of disaster and desperately close to disappearing off the rugby league map.
Four years on, the Tigers are set to walk out onto the pitch at Old Trafford for the first time in their 91-year history, hoping the 'Theatre of Dreams' can deliver their fairytale ending.
Standing in their way is an experienced Leeds side, on the hunt for their eighth title in the Super League era, with their own story of revival.
This is David versus Goliath.
Castleford's emotional rollercoaster
Four years ago, Castleford were in turmoil and on the brink of financial collapse.
Departing chief executive Steve Ferres, who resigned in February 2013, said the club needed "considerable investment to continue".
Chairman Jack Fulton brought in Steve Gill, who replaced head coach Ian Millward with Daryl Powell, and the club began to see success on and off the field.
By 2014 the club were in the Challenge Cup final – and this season they ended the regular campaign as the runaway winners to claim their first League Leaders' Shield.
Scrum-half Luke Gale won the Man of Steel award after an outstanding season and his drop-goal heroics against St Helens secured Tigers' play in the showpiece finale.
But then, as his side prepared for the play-offs, the 29-year-old playmaker was told his season was over.
Gale had his appendix removed just 16 days before the semi-final victory over Saints.
"It has been an emotional rollercoaster – from thinking the season was over to playing in the Grand Final on Saturday," he told BBC Radio 5 live.
"It is pretty amazing really and a rollercoaster probably sums it up."
In their dramatic win over the Saints, Gale crossed for a try and then scored a late penalty to take the game to golden-point extra time.
The thrill of a victory in front of a capacity crowd at The Jungle was in stark contrast to Gale lying in a hospital bed believing his season was over.
"When I went into hospital they told me it was appendicitis and I was going to have them removed that night," Gale recalls.
"I explained I played rugby and I had a couple of important games coming up, and they basically said 'oh, you can forget about that'.
"I lay on the bed and had some dark moments but then the specialist came up and said if we did it keyhole and all went well, I could be back in three weeks' time."
But the drama doesn't end there for Castleford.
Full-back Zak Hardaker, another nominee for the Man of Steel award, was left out of their squad for the Grand Final following a "breach of club rules".
The England international was one of the stand-out players in 2017, scoring 13 tries in 30 games.
Former Leeds captain Kevin Sinfield said he was disappointed and saddened by the omission, and it would be a "huge blow" for Daryll Powell's side.
"One of the star men is going to be missing. But what it does provide is the opportunity for someone else from Castleford to stand up," Sinfield told BBC Radio 5 live.
'Leeds looking to write a bestseller'
Leeds, meanwhile, are a team used to winning trophies but they have been second best for much of the year.
After a ninth-place finish in 2016, Rhinos faced a battle to retain their Super League status, but 12 months on they have made an unlikely return to the showpiece event.
"It's been really interesting watching Leeds fly under the radar this season," said Sinfield.
"When I look at where they were in 2016, it's like they did it on purpose. They were almost relegated, created as much adversity as they could and in 2017 they've said 'watch this'.
"They've fought back and you'd be a brave person to bet against them."
On Saturday evening, Leeds will also bid farewell to two of their most decorated servants – Rob Burrow and captain Danny McGuire – hoping their big-game experience will deliver a perfect send-off.
The half-back pairing have been the heartbeat of the club since their debuts in 2001 and have made nearly 1,000 appearances between them.
Alongside Sinfield, they have won seven Grand Finals – and could add an eighth on Saturday night.
"It's pretty special, I know this is a huge achievement for this group," head coach Brian McDermott told BBC Radio Leeds. "There's an inner strength within my players, that only comes from extreme adversity.
"While we haven't reached anywhere near the heights Castleford have this year, the strength and the honesty we have because of what has gone on will be the difference. I think this is part of a great story.
"If we win it, it will be a bestseller. That's what drives us on."
Only four clubs have ever won Super League – Leeds, Wigan, St Helens and Bradford.
On Saturday, under the lights at Old Trafford, Castleford will be hoping there is a new name engraved on the trophy,