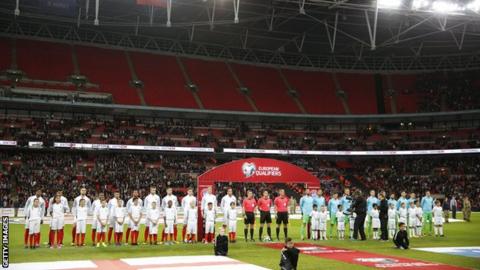 More than 100 politicians have signed a letter to the Football Association urging it to donate unsold tickets for England matches to schools.
Written by Shadow Sports Minister Dr Rosena Allin-Khan and backed by 128 MPs from all four major English political parties, it asks FA chairman Greg Clarke to "take steps to ensure the days of empty wasted seats are ended".
England played Slovenia at Wembley last Thursday in front of 61,500 with 28,000 seats unsold, but the FA said it gave away 7,000 tickets to the game.
Of that 7,000, schools received 4,000 and a further 3,000 went to community groups.
Allin-Khan MP, said: "I am pleased that many MPs from across the country agree and have joined me in signing this letter to the FA.
"This letter represents agreement from a large cross-party group of MPs, that we want to see the FA go further.
"The 28,000 empty seats at Wembley represent 28,000 lost opportunities – for many young children across the country, seeing England play live at Wembley is a distant dream.
"The FA can turn this dream into a reality.
"We appreciate the work the FA does in the community, but there is more to be done. Where they can foresee large blocks of empty seats at Wembley – they need to commit to giving these to schools across the country."