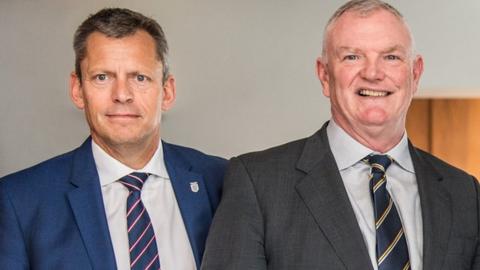 The FA has been accused of ignoring issues raised by discriminatory race remarks made by sacked England women's boss Mark Sampson.
Professional Footballers' Association chief Gordon Taylor made the comments after his own organisation was criticised by FA chairman Greg Clarke.
Taylor said English football's governing body had not taken on board the concerns of forward Eniola Aluko.
"They didn't listen to her then. They're still not listening," he said.
The FA apologised on Wednesday for remarks made to Aluko in 2014 and Chelsea and England team-mate Drew Spence in 2015 as a reopened investigation into their complaints was published.
But the organisation was subsequently described as "shambolic" as FA bosses faced difficult questions during a four-hour parliamentary inquiry.
Giving evidence, FA chairman Clarke said he had a "fundamental problem" with the governance at the top of players' organisation the PFA.
He said: "The PFA spends millions of pounds a year on the CEO's salary and pension and they are walking away from alcoholics, from addicted gamblers. I will never look up to their governance, though I respect their people."
But Taylor told BBC Sport that was an attempt to deflect criticism and "was so unprofessional it was amazing".
He said Clarke had "burned bridges" between the organisations and added: "We don't need any lectures from the FA on good governance."
'Need to learn lessons'
Sports minister Tracey Crouch said the FA needed to take steps to improve.
"I hope that the FA learns lessons from this whole sorry saga to ensure that all in the sport and the wider public have faith in their processes and procedures," she said.
"We have been clear that we expect world leading standards of governance from all our national sports governing bodies.
"This is why, alongside Sport England and UK Sport, we have drawn up a new Code for Sports Governance that all publicly funded sports bodies, including the FA, must adhere to."
On Wednesday, the head of an anti-racism group had questioned whether FA chairman Clarke was right in his suggestion that he had contacted him early on in the case for advice.
Kick It Out chairman Ouseley clarified on Thursday he had spoken to Clarke, but not until August 2016.
"My assessment which I gave to the FA was, 'you screwed up'. It was a flawed investigation. You need to hold your hands up and apologise," he said.
"They forgot that Eni Aluko was one of their employees. She's on a contract. You have a duty of care to both [Aluko and Sampson], and I think they forgot that."
Yunus Lunat, a former adviser to the FA's race equality board, said the organisation had failed to address serious allegations.
"There's a term – institutional discrimination – being bandied around here. If you analyse what has happened, it fits the term institutional discrimination to a tee, I'm afraid," he told BBC Radio 5 live.
How did we get here?
Senior figures at the FA were in parliament to answer questions over their investigation into claims made by England striker Aluko against Sampson.
Aluko initially made her claims in 2016 as part of an FA inquiry into its management culture.
The 30-year-old accused Sampson of belittling her and making racist remarks to both her and a team-mate. Aluko also said she suffered "victimisation as a result of reporting discrimination".
Sampson, 35, said his conscience was clear, and denied being a racist.
He was sacked in September after evidence of "inappropriate and unacceptable" behaviour with female players in a previous role.
Prior to the hearing on Wednesday, the FA issued an apology to Aluko and Spence in light of new evidence surrounding race remarks made by Sampson.
An independent barrister, Katharine Newton, ruled Sampson made unacceptable "ill-judged attempts at humour" on two occasions to the players.
What did the FA say during the hearing?
FA chief executive Martin Glenn issued the initial apology to Aluko and Spence at the beginning of his stint in front of the MPs.
He then defended the FA, saying it "went about it with the right spirit".
When pressed on whether the FA had failed in their duty of care, he said: "There have clearly been failings. I wouldn't want to then say the organisation is failing.
"We have 900 members of staff. On balance I think we do a good job."