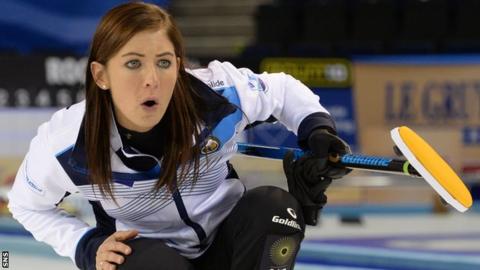 Olympic bronze medallist Eve Muirhead will be joined by her brothers, Glen and Thomas, at the 2018 Winter Olympics after GB's curling teams were named.
Eve Muirhead, who will skip the women's team for the third consecutive Games, will be joined by Anna Sloan, Vicki Adams and Lauren Gray.
The men's team will be skipped by Kyle Smith in South Korea, and includes Thomas Muirhead.
The third sibling, Glen, joins Team Smith as an alternate.
Glen Muirhead was a member of Tom Brewster's rink, which missed out on qualification, but he has joined Team Smith – who will be making their Olympic debut – for the Games in Pyeongchang in February.
Kyle Waddell and Cammy Smith make up the rest of the team that also saw off Olympic silver medallist David Murdoch's team in the qualifying process.
Eve Muirhead's team won bronze at the World Championships in March, having also finished third in the European Championships earlier in the year.
Muirhead became the youngest curling skip to win an Olympic medal when her rink finished third in Sochi in 2014.
Team Muirhead parted company at the end of last season with former coach Dave Hay – under whom they won the World Championships in 2013 and Olympic bronze the following year.
They also replaced Sarah Reid with Lauren Gray as lead, and brought in Canadian Glenn Howard, a four-time world champion, as a tactical coach. Two-time Olympian Kelly Schafer completes the line-up as alternate.