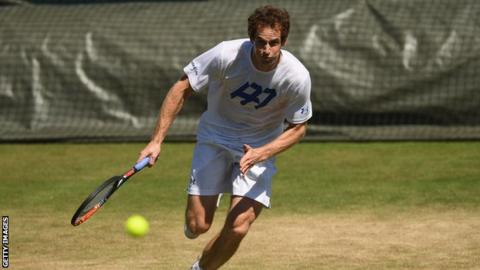 World number one Andy Murray says he will be fit to defend his Wimbledon title, despite struggling with a hip injury.
The Briton, 30, picked up a hip injury earlier this week and was hobbling during practice sessions at the All England Club.
Murray plays Kazakhstan's Alexander Bublik in Monday's opening match on Centre Court at 13:00 BST.
"I'll be fine to play the event and play seven matches," the Scot said.
"If I feel like I am today, I'd be delighted and have no issues getting through.
"If necessary, I can take some anti-inflammatories if my hip flares up. Hopefully that's not the case."
Murray pulled out of two exhibition matches last week and missed three days of practice, preferring instead to rest the injury and work with his physio.
"I've had hip problems since I was very young," he added.
"It's not something new to me. It's just been very sore the last few weeks."
Murray has visibly struggled at times between points since returning to practising at Wimbledon under the watchful eyes of coaches Ivan Lendl and Jamie Delgado.
However, the two-time Wimbledon champion believes his recent run to the semi-finals at the French Open sets an encouraging precedent.
"The last few days have been very good," Murray said.
"Practice each day has got a little bit better. It's been slightly stop-start preparations. But each day I've felt better.
"A little bit like at the French Open, where maybe I didn't come in as well-prepared, I still found a way with each match to feel a bit better, and built confidence each day.
"So, you know, I'm hoping that's the case here."
Fellow British number one Johanna Konta has also been struggling with injury after a heavy fall in Eastbourne on Friday, but was practising apparently without issues at Wimbledon on Sunday.