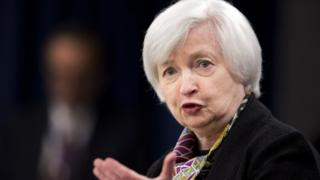 Federal Reserve chair Janet Yellen has given her strongest indication yet that an interest rate rise will be coming this summer.
In a speech in Philadelphia on Monday she said that "positive economic forces have outweighed the negative".
Ms Yellen also warned that a UK vote to leave the European Union could have "significant economic repercussions".
The US labour market added just 38,000 jobs last month – the fewest since September 2010.
The figures appeared to dampen expectations that the Fed would raise rates at its next meeting on 14-15 June.
Ms Yellen stressed that the Fed would continue to monitor the market, but that economic trends had been mostly positive.
"If incoming data are consistent with labour market conditions strengthening and inflation making progress toward our 2% objective, as I expect, further gradual increases in the federal funds rate are likely to be appropriate," she said.