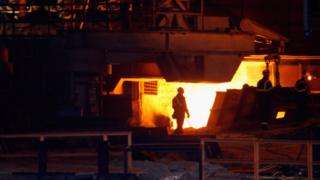 The Tees Valley, where thousands of jobs were lost when Redcar's steelworks closed, can become a "bustling powerhouse of economic activity", a report has said.
About 3,000 direct and indirect jobs were lost after the SSI plant closed.
The 90-page document by Lord Heseltine proposes a new development corporation as well as plans to increase tourism.
Redcar and Cleveland Council leader, Sue Jeffrey, said the area still had "huge potential".
The Labour council leader has been put on the new South Tees Development Corporation's board of local business people and local authority leaders charged with drawing up proposals for the use of the former steelworks site.
They had to "come up with a vision for that whole site about how it could be regenerated, how it can be refreshed, how we can bring inward investment and jobs and actually make the most of what is a key industrial site for the whole of the Tees Valley", she said.
The former Conservative deputy prime minister, Lord Heseltine, said he had been "slightly surprised" by the area's "can-do attitude".
"Wherever you go, you find bright, intelligent and hard working people who are determined to make a success of this place and know how to do it," he said.
The Labour leader of Darlington Borough Council, Bill Dixon, said Lord Heseltine's report "shows that London are starting to listen" to the region.
"It's interesting that Michael said it was an area he didn't know very well," he said.
"That came across in the initial visits by civil servants who simply didn't understand the Tees Valley at all, they just thought we were some kind of suburb of Newcastle, so that's an improvement."
Lord Heseltine wants to see more apprenticeships created, more starter homes built and a change in the industrial identity of Teesside to try to attract more tourists.
But Middlesbrough Labour MP Andy McDonald says his report "doesn't add anything or take us forward by one jot".
"We have got the industrial answers if only the secretaries of state and the prime minster would listen," he said.
However, the Minister for the Northern Powerhouse and Stockton South MP, James Wharton, paid tribute to Lord Hessletine, whom he described as "a big name" with a high level of "clout and influence".
---
'Lord Heseltine's vision'
Ian Reeve – BBC Look North Business Correspondent
If the veteran politician's 90-page document of aspirations comes to fruition the area will be a veritable utopia.
His vision foresees things as diverse as a new Tees crossing and electrification of the Northallerton to Teesport rail link.
He insists money is available to kickstart projects but the hope is the private sector will follow on and invest. Build a new road, for instance, and they will come, is his reasoning.
It is surely the regeneration of the steelworks site that people will use to gauge whether Lord Heseltine's project is a success and, at the moment, progress looks stymied.
It's believed a consortium of Thai banks is laying claim to the site, with the liquidator unprepared, or unable, to pay them off.
A previous development corporation on Teesside – set up in the 1980s – had swingeing powers that it would have deployed to take control of the site. The new one does not.
Lord Heseltine's vision – for the important flagship steelworks site at least – could be faltering as its only just been framed.
---
He said: "That's why I so welcome that he's taken the time not just to put his name on this, but to spend so much time here to really understand the opportunities and also the challenges this area has.
"We need to look at it very carefully – government, local authority leaders, local businesses, need to see where we can agree, see what we can deliver.
"But the underlying message is a positive one about the future of this area, and what it can do, and I think it's one everyone can get behind."
The steel works have been in the hands of receivers since the site's Thai owner Sahaviriya Steel Industries UK (SSI) was wound up on 2 October.
The closure of the coke ovens and blast furnace saw the end of steel production at the 98-year-old Redcar works.
Lord Heseltine was asked by Business Secretary Sajid Javid to look at ways of bringing investment to Teesside after the site closed.
SSI blamed a global slump in the value of steel for its original decision to mothball the Redcar works.