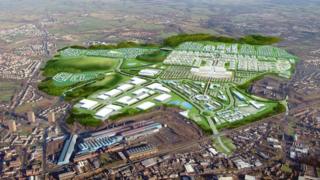 Plans to build one of Scotland's biggest retail centres on the site of the former Ravenscraig steelworks have been abandoned.
A scaled-down masterplan will include proposals for more than 500 new homes, a park and a primary school.
When the original planning application was submitted in 2001 it proposed a new town centre, with up to 57,000 sq m of retail floor space.
But the revised blueprint only includes a solitary convenience store.
The growth of online shopping and the global economic downturn have forced a rethink for the site of the British Steel works, which closed in 1992 after a bitter 12-year fight.
'Urban regeneration'
But Nick Davies, director of Ravenscraig Ltd, has hailed the significance of the new proposals, which will go out to public consultation next month.
He said: "We have ongoing plans to redevelop the Ravenscraig site, one of the most important urban regeneration projects in Europe.
"Since development work began in 2006, we have welcomed New College Lanarkshire, Ravenscraig Regional Sports Facility, the Ravenscliff pub and hotel, and hundreds of homes to the site.
"The revised masterplan reflects the needs of the growing community, with a focus on high-quality housing, a range of community and commercial facilities and substantial green space all of which will combine to deliver an enhanced quality of life for the local community.
"Employment opportunities play a central role in immediate development plans and conversations are under way with potential commercial occupants."
The early phases of the 2017 Ravenscraig masterplan include about 550 new homes to add to the 450 homes completed to date.
They will be built between 2018 and 2021.
Like the retail plans, this is a scaled-down version of the original 2001 blueprint which forecast that 3,500 houses and flats would be constructed on the site.
As well as a 17-acre park, a new primary school will be developed when there are 1,000 homes on the land.
Developers expect this will take place within three to five years.
A new site for the convenience store has been earmarked near the Marston's pub and hotel.
Public consultation
Space will also be set aside for offices and commercial businesses in the town centre.
The new planning application follows a community consultation hosted by North Lanarkshire Council in November last year.
Locals called for a primary school, green space, a convenience store and the creation of local job opportunities all of which have been incorporated into the new masterplan.
Members of the public are invited to view and comment on the proposals at a series of drop-in exhibitions before the new application is submitted.
They will be held at the Ravenscraig Regional Sports Facility on 21 November, the John McCormack Community Centre, Carfin, on 22 November and the Jim Fowley Community Centre in Wishaw on 23 November.
Ravenscraig Ltd is a joint venture partnership between Scottish Enterprise, Wilson Bowden Ltd and Tata Steel.